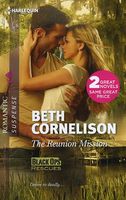 Series: Black Ops Rescues (Book 2)
Protect me, baby...
Though it's been five years since Black Ops agent Daniel LeCroix last saw Nicole White, his desire for her burns as strong as ever. But he's got to stay focused on his mission-rescue Nicole and an innocent child from a Colombian prison camp.
Nicole is shocked to see Daniel again. She still has feelings for him, but hasn't forgotten his betrayal. When danger finds her again, Daniel places her in a safe house. Sharing such close quarters, Nicole and Daniel must confront the past-and a passion that won't be denied.
Very good book. When Daniel rescues Nicole from the Colombian jungle, she doesn't recognize him at first, though she has never forgotten him. She first knew him in high school, then met him again five years later when they spent an unforgettable night together. Thanks to a misunderstanding, each was left feeling betrayed by the other. Now they are spending time together in a safe house, protecting a little girl, and trying to decide what to do about their attraction. Besides the issues of their pasts, Daniel also doesn't trust her father, who had dealings with a drug lord when he was trying to free Nicole. Daniel also has some issues with insecurity about his heritage, being raised Cajun. He has dealt with a lot of prejudice, and it makes him sensitive to anything he even thinks might be negative. He takes awhile to realize that Nicole has no problem with his heritage, and actually considers it something to be proud of. I also enjoyed seeing how good Daniel was with the little girl, Pilar, and how he realized that a family could be in his future after all. The suspense was great, also, with Daniel trying to protect Nicole and Pilar, and working out how to reunite Pilar with her father. I wish there was something in the book to tell what Daniel is going to do now that he's out of the black ops unit. I liked seeing Alec and Erin, and I'm looking forward to Jake's story.