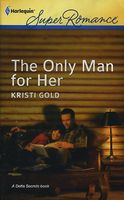 Series: Delta Secrets (Book 3)
From the moment they meet, Matt Boyd knows Rachel Wainwright is The One. Doesn't matter that he's from the wrong side of town or that her family has bigger plans for her. They belong together -- and they defy the odds to be with each other. Contrary to what everyone says, they will make it.
But when an unexpected tragedy drives a wedge between them, everything they share seems in jeopardy. Matt knows Rachel deserves the truth about what happened. Yet that truth could turn her away from him...forever. Before it's too late, he needs to remind her that this relationship is worth fighting for.
Very emotional book. It started out with Matt and Rachel's elopement when they were eighteen, so in love they knew it would last forever. Then it was thirteen years later and the marriage is in trouble. Rachel lost their baby at seven months and it has caused a great strain. Rachel feels deserted by Matt because he won't talk to her about the baby, and all he does is work. She needs to feel that connection to him and it isn't happening. She has reached the point of asking him for a divorce, not because she wants it but because it might wake him up to what is happening. Matt loves Rachel, he has never stopped. He has never been good at talking about his feelings, and it has only gotten worse since the loss of the baby. There is one night that their old feelings take over and Rachel ends up pregnant. She can't tell Matt because she doesn't know if he wants another baby, but she knows he has to be told. Matt knows he doesn't want the divorce, and vows to do whatever he needs to to win her back. They go away for a long weekend to the town where they got married and spent their honeymoon, and spend time with the judge and his wife. While there they start to mend their relationship with advice from the judge's wife. When Matt finally tells Rachel the secret he's been keeping she's horrified and runs back home, swearing she never wants to see him again. Seeing Matt as he tried to deal with his feelings was painful at times. He so desperately needed Rachel, but couldn't bring himself to break the habits of years until it was almost too late. I was so glad to see him able to talk to his and Rachel's fathers and get some badly needed perspective. Rachel spent a lot of time believing the worst of Matt and I wanted to smack her sometimes. At the end, I was glad to see that her father's advice was helpful to her. This story was so emotional I had several points where I could hardly read for the tears.