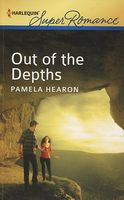 She isn't going down that road again
Kyndal Rawlings thought she'd learned her lesson when Chance Brennan left her to pursue his Ivy League dreams. Yet here she is, in Kentucky, falling for him all over again. Maybe it's being stranded in a cave with him...the same place they first became lovers.
Or maybe there's still something between them.
Not that anything will change-even after four tense days of depending on each other for their very survival. Chance needs a certain kind of woman to help him with his career. And Kyndal will never be that kind. But something has changed. Something that will force the m to decide what they really want.
Good book. Kyndal had returned to Paducah to take photographs of a cave for her portfolio so that she can get a job with a magazine. When she gets caught trespassing on that property, she finds out that Chase now owns it. He decides to help her out and take her to the cave so she can get her pictures. While they are in there, they end up getting trapped and spending four days together. This gives them a chance to talk about what happened to their relationship and begin to be friends again. They also have one night when they give in to their still strong attraction. After they are rescued, they go their separate ways, but can't stop thinking about each other. I really liked Kyndal and her determination to overcome her past and make something of herself. She is a terrific photographer and is sure it's just a matter of time until she finds the right job. She still has self-esteem issues though, and feels that she would never be good enough for Chase and his family. I had a harder time liking Chase. He did look down on Kyndal and the choices she made. He didn't approve of her views on things (environmentalist) and couldn't understand why she gave up her ideas of being a lawyer to be a photographer. He got a bit better at understanding her while they were in the cave. But afterward he still thought more about his ambitions than about how being with Kyndal had made him happy. I liked the way that talking with his mom opened his eyes a little, and then I loved when he finally let his father have it for his interference and attitudes. The final scene with Chase and Kyndal at the pet store was fantastic.