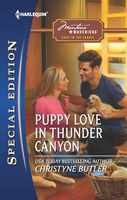 Series: Montana Mavericks: back in the Saddle (Book 2)
THUNDER CANYON NUGGET
Love me, love my...doctor?
Tongues are wagging all over town that bubbly, quirky pet therapist Annabel Cates has been spotted keeping company with Dr. Thomas North. Yes, that Dr. North-the ever-serious, oh-so-gorgeous and utterly unattainable orthopedic surgeon who has dashed the hopes of so many Thunder Canyon cowgirls.
Will Annabel really be able to domesticate the medical maverick? Folks round these parts can't understand how two such emotionally opposite people even got together. (We give the credit to an unlikely matchmaker with four paws and a winning smile!) Stay tuned, faithful friends, and find out if sexy Dr. North can stay immune to this adorable Cates sister and her irresistible pup!
Very good book. I loved Annabel. When she showed up at the hospital to be there for her cousin Forrest, she refused to take no for an answer from the serious and logical Dr. North. Not only did she get to stay for the appointment, she even got him to allow her to set up some therapy sessions there at the hospital. He thought the whole pet therapy thing was hogwash, but he couldn't seem to say no. And then he surprised himself and her by asking her out on a date. I really loved the way that she brought some fun and lightness to his life. Thomas had made some mistakes in his past that he attributed to allowing his emotions to get the better of him, so he had decided that he wouldn't allow them that power again. The more time he spent with Annabel, the more he was amazed at how well and quickly she had fit into his life, and that scared him. He didn't want to find himself making mistakes because he was distracted by feelings. I liked his grandmother and the way that she explained things to him that made him finally see the light. The final scene with Thomas at the animal shelter was so sweet. I hope we don't have to wait too long for Forrest's story.