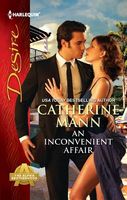 Series: Alpha Brotherhood (Book 1)
Hillary Wright has always been a magnet for Mr. Wrong. Her latest left her in trouble with the law, and to clear her name, she's agreed to an undercover sting—as the "date" for infamous Troy Donavan. The notorious hacker is now a government good guy…and a sexy billionaire playboy. Troy has a reputation as the sort of man she's vowed to avoid, and his secretiveness adds fuel to Hillary's distrust. But with his kisses like molten sin, her fierce resistance is melting. And being sensible in the face of such overpowering desire is just not an option.
Wow. Catherine Mann can sure write some hot alpha men. Hillary has a habit of being attracted to bad boys. The latest one was caught stealing and money-laundering, and she was suspected of being in on it. To clear her name, she has been paired with Troy to identify one of the other participants. Troy also fits that description. He was caught hacking into DOD computers at the age of fifteen and sent to a military reform school (where he met other similar guys, as we'll see later). Now he assists the government when his abilities and lifestyle are needed. When Troy and Hillary meet, they are immediately attracted to each other, but she doesn't trust him. When the man is identified, Troy whisks her away to keep her safe until he is caught. I loved the Costa Rica location - so beautiful! During that week away, she begins to see the man under the persona that the public is allowed to see. Troy is incredibly intelligent, but had a neglected childhood and got into trouble for the attention. He was also very much a loner until he made friends at school, and is still a very private person. I loved seeing him open up to Hillary, even as he tried not to. He just couldn't help it as she reached something in him he didn't know he needed. I also loved the way that he did unexpected things for her, and listened to what she said and wanted. When he abuses her trust, she leaves, but soon realizes that it may not have been all his fault. I loved the way they got back together at the end, and look forward to their appearances in future books. I also enjoyed the mentions of the Landis/Renshaw families. I can't wait for the next book!