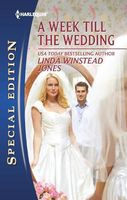 ANYTHING FOR GRANDMA!
Jacob Tasker had broken Daisy Bell's heart years before. Now his failing grandmother had fixated on the delusion that Jacob and Daisy were engaged, and was planning their wedding. So Jacob appealed to Daisy to pretend they were still a couple. For Grandma Eunice's sake, of course.
Maintaining the charade was the toughest challenge of Daisy's life. Because Jacob's touch still made her heart ache with longing. But Eunice stubbornly clung to her delusion, so what was Daisy to do? It seemed odd, though, that except for this one aberration, Eunice's mind seemed perfectly fine....
Ok book. Jacob was back in his hometown for a family reunion. His grandmother appears to be suffering from some confusion and is fixated on the idea that Jacob and Daisy are engaged. She is planning their wedding and nothing will stop her. Jacob had left Georgia for San Francisco seven years before and had only come back a few times. He works incredibly long hours and feels he has the success he was looking for all those years ago. He regrets leaving Daisy behind, but thinks there is nothing to be done about that, until this latest problem with his grandmother. He has asked Daisy to help him by pretending they are engaged. Daisy is still angry and hurt about Jacob's departure and only agrees for the sake of his grandmother. Both of them discover there is still an attraction between them. Jacob wants to pursue the attraction and see where it goes, but Daisy doesn't want to get hurt again. I liked Jacob's decision to try again with Daisy, though his initial idea only included her coming to San Francisco not anything permanent. Daisy's biggest problem is that she is stuck in a rut there in Georgia. She finally realizes that she is hanging on to memories, not that she really wants to stay there. My biggest problem with the book is the grandmother. I really didn't like her manipulation of everyone. She may have felt she was doing it in their best interest, but her methods were terrible. When the truth came out everyone was furious with her. Even at the end, she didn't seem to have truly learned her lesson.