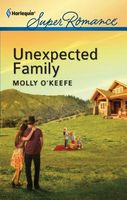 Jeremiah Stone: rodeo superstar. Good-time guy. Father of three? That's one pair of boots Jeremiah never expected to fill. Then his three nephews are orphaned, and his entire life changes. Not only is he now playing parent, he's also running the family ranch. It's almost too much for this cowboy.

Until he encounters Lucy Alatore.

He recognizes that look in her eye and knows a steamy fling could make him feel more like himself. But the intense heat between him and Lucy is distracting him from three little boys who need his undivided attention. He's forced to choose one over the other...unless he can convince Lucy this family isn't complete without her!
Good book. Jeremiah has custody of his three orphaned nephews which is something he never expected. The boys are all having trouble coping and are behaving badly, especially the middle one. Jeremiah doesn't know what to do to make it better, especially since his family has never been big on talking. Lucy and her mother have come back to Wassau to stay with her sister. Lucy had a successful career as a jewelry designer until she made some mistakes and lost it all. Now she is trying to figure out what to do next, since she doesn't even feel like designing anymore. She decides to try to help Jeremiah, who she is attracted to. Jeremiah is also attracted to her, but feels that he cannot split his attention between her and the boys. Jeremiah is so totally clueless that I really feel sorry for him. I did like the way that Lucy tried to help, and that her family was able to assist Jeremiah.