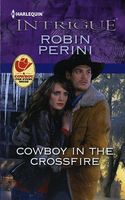 SHE'S THE ONE PIECE OF HIS PAST THIS COWBOY CAN'T ESCAPE
Unjust accusations shattered Blake Redmond's big-city police career -- and destroyed everything around him. Now, all this sheriff lives for is keeping watch over his small Texas town…until Amanda Hawthorne and her five-year-old son come fleeing out of a snowstorm with killers on their trail. The terror Blake sees in the young boy's eyes makes Blake swear to protect him and his injured mother. But winning Amanda's trust is as difficult as resisting the passion drawing him to this beautiful, determined woman. With their every move thwarted and time running out, the only way Blake can clear his name and save this little family is to confront his own dangerous past -- no matter what the cost.
Very good book. The suspense and action kept me turning the pages as fast as I could read. Amanda came to Blake after her brother was killed and her son witnessed the murder. Blake had left Austin after being accused of being a dirty cop, set up by Amanda's brother. But he couldn't deny them his help, especially after they were attacked at his ranch. Amanda has serious trust issues after life with her ex-husband, but she knows Blake will take care of them. The only way that they can stop what's happening is if they can uncover the boss of the whole operation. Vince supposedly gave her the evidence needed but she doesn't know where or what it is. As they do their best to find the evidence and escape the killers, they seem to be just one step ahead of them. The attraction between Blake and Amanda was intense. Blake was having a hard time believing that Vince wasn't the bad guy, and Amanda was insisting that there had to be a reason for his actions. I really liked both Amanda and Blake. Blake's protectiveness toward Amanda and Ethan was fantastic. I also liked the way that Amanda was so good at adapting to whatever needed to be done, in spite of her distrust of nearly everyone. The final scenes were great, and the epilogue was a nice finish to the story.